A Higher Standard Of Quality
At Cassidy Bros. Forge, we incorporate methods of wrought iron construction which exceed current standards of quality. Wherever possible, we over-design our ironwork. Why? Because we want to ensure that our hand forged gates and fences will maintain their original shape and appearance for a lifetime.
Solid Wrought Iron Gate & Fence Construction
Quality of design, materials and craftsmanship are what make our wrought iron gates and fences superior to the standards available today.
All scrollwork is hand forged by our blacksmiths.
Moving parts for our wrought iron gate hinges and latches are made of stainless steel and long wearing bronze bushings.
Our wrought iron gates include a steel superstructure which has the hinges attached as one piece with optional gate operator and positive stop hardware. This key element provides an extremely simple method for accurate and fast gate erection.
We specify column foundation size and depth to guarantee adequate gate support and protection against frost.
Our Finishing Process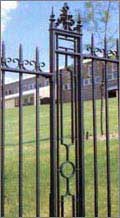 All ironwork is properly prepared for finishing by steel-grit blasting in our grit-blasting facility and painted with a two-part epoxy primer and finished with a two-part polyurethane paint.
Both our grit-blasting facility and our modern paint shop comply with current EPA, OSHA, and Clean Air Act requirements. Exterior ironwork can be finished with COLORGALV® to provide maximum rust protection.
Virtually Maintenance Free
The natural beauty of ironwork can complement any architectural style while providing safety, security and privacy. With today's finishes, such as COLORGALV® from Duncan Industries, wrought ironwork is virtually maintenance free. Stronger and more durable than cast iron, tubular steel or aluminum, it is in some applications practically indestructible.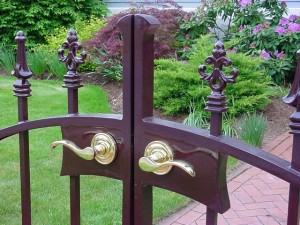 Shipping & Installation
All items are carefully crated or containerized for shipment anywhere in the United States or abroad. We will take field measurements and supervise installations upon request.
Custom Metalwork
Although most of our work is generally wrought iron fencing and gates, we also make any other type of custom metalwork from bronze railings to iron and glass canopies. It's not unusual for us to work with cast iron as well as aluminum and stainless steel.
Significant Competitive Differentiators
| | | |
| --- | --- | --- |
| Construction | Cassidy Bros. Forge | Other Manufacturers |
| Pickets | Solid Material | Hollow Sheet Material |
| Picket to rail connection | Factory welded panels | Pop-riveted connections, usually field assembled |
| Finials | Forged picket finials | Squashed tube shapes |
Why You Need To Be Concerned About These Differences
Reduced Life Expectancy
A survey of competitive fencing and gate catalogs reveals that most manufacturers offer only hollow tubular pickets. Due to using hollow pickets, their fencing and gates have a greatly reduced life expectancy and offer significantly less physical strength than the same made from solid pickets.
Not As Strong
Our competitors generally supply their fence products in kit-like unassembled components. Most are assembled by the buyer or installer using "pop-rivets" or "tech-screws". These types of connection methods weaken both the strength and physical appearance of the finished product.
Installation Costs More
The assumed value of lighter weight material is further diminished with a more costly assembly of the parts at the time of installation.
Call Cassidy Bros. Forge today at 1-978-948-7303 and put our expertise to work for you.