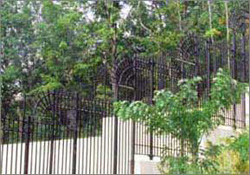 Two fence projects with gates were made for this large facility on Staten Island, New York.
The first was four hundred feet of fence by eight feet high that was constructed from four 3/4″ thick horizontal rails with 3/4″ solid pickets spaced at 3″ on center.
Two years later, we made over a thousand feet of four foot high fence for the same facility. Due to budget cutbacks, the latter project was painted. So if you view the fencing, I would expect the finish on the older tall fence to look much better.