Why Choose Cassidy Bros. Forge for Your Wrought Ironwork Projects?
Simply put, we have the talent to forge an exceptional product.  We invite you view our photo tours below and to browse our project and portfolio listings.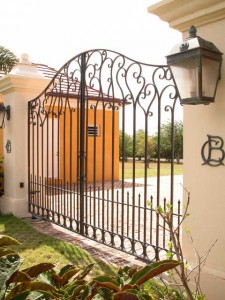 How To Design A Wrought Iron Gate
• See how we transformed an architect's sketch into timeless wrought ironwork.
How We Forge Wrought Iron Scrolls: Photo Tour
• Take a photo tour of how our blacksmiths hand forge wrought iron scrolls.
How We Waterjet Cut A Compass Rose: Photo Tour
• See how we used waterjet cutting to create an intricate rose design from one piece of 2-3/4 inch thick bluestone.
How We Help You Picture Your Project
• Are You An Architect Or A Designer?
• Using current digital technology, we'll provide you with scaled color prints for presentations.
Why We Do It: The Timeless Beauty Of Wrought Iron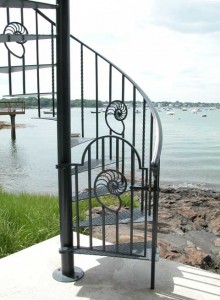 Built To Last A Century
• Enhance the environment – and make a permanent statement – with the strength and beauty of hand forged wrought iron gates and fences.
What A Difference Wrought Iron Fences & Gates Make!
• Before & After Landscape Photos
Our Satisfied Clients
Our satisfied clients include numerous colleges, corporate headquarters, private estates, embassies, public parks, cemeteries, churches and cathedrals throughout the United States and abroad.
Call Cassidy Bros. Forge today at 1-978-948-7303 and see how our approach to the enduring beauty of wrought iron work will make a crucial difference in your next project.