Make A Statement In Wrought Iron
Your creativity is the key to a successful project, a permanent statement that enhances the environment. And at Cassidy Bros. Forge, we take pride in working with you to help make real creativity possible.
Your Visions Come True
You see, we're not just a traditional wrought ironworks forge. We use the best of both modern and centuries-old techniques of fine craftsmanship to make your visions come true. Our goal is to help you create a permanent structure that enhances the environment with the strength and beauty of fine wrought iron.
We're Sensitive To Design Priorities
And we'll work with you on your presentations to your client. Our experienced draftsmen will assist you in planning and estimating projects to be included in contract specifications.
Detailed AutoCad Drawings
We'll provide you with detailed AutoCad drawings, complete with any specials instructions that would be needed for installation. Plus, using current digital technology, we'll provide you with scaled color prints for presentations, depicting our products or custom designs into the images.
Call Us For Details
We do grant permission to Architects and Designers to use our details and specifications in contract documents, provided that you contact us first. We ask that you furnish the job name, address and the scope of relevant work in addition to supplying your firm name, phone number and contact person. Please note that any other use of this material is prohibited.
Call Cassidy Bros. Forge today at
1-978-948-7303 and put our expertise to work for you.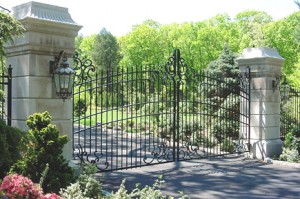 Beauty That Is Timeless
A well designed piece of ironwork becomes exceptionally beautiful when finely forged details are integrated into the design. Well executed scrolls, collars and finials, graceful in appearance, can contribute to the strength of the piece as well.
Value That Is Obvious To Everyone
Solid. Enduring. A hand forged wrought iron fence and gate is a permanent statement that stands as a tribute to your design creativity – and to the stature of your client.
A Higher Standard Of Quality
And at Cassidy Bros. Forge, we incorporate methods of wrought iron construction which exceed current standards of quality. Wherever possible, we over-design our ironwork. Why? Because we want to ensure that our hand forged gates and fences will maintain their original shape and appearance for a lifetime.