Cassidy Brothers' wrought iron gates are offered in many traditional styles as well as custom-made to your architect's specifications.
Quality of design, materials and craftsmanship are what make our ironwork gates superior to the standards available today. Pickets and frames are made from solid material. All scrollwork is hand forged by our blacksmiths.
When ordered for new masonry columns, gates include a steel superstructure to reinforce the columns. This important component includes pre-fit hinges as well as optional gate operator hardware. This key element provides an extremely simple method for accurate and fast gate erection. Our gate hinges are an extremely heavy duty design using 1″ x 3″ thick material and a 1″ diameter stainless steel pintle sleeved with a bronze bushing and bronze washer.
Wrought iron gates are available for 12′, 14′, 16′ and 20′ wide openings by 6′ column heights.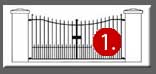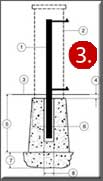 1. Select a wrought iron gate design.
2. Select a gate opening width as the finished dimension between the columns. All standard gates are made to fit 12′, 14′, 16′, 20′- openings. Any other size is available as a custom order.
3. Select a column height: For new masonry column construction, standard gate sizes fit columns 72″ high measured from the finished grade to the underside of the capital. Any other height is available and needs to be specified as a custom column height.
4. If a picket finial or gate frame finial different from those illustrated are desired, see Picket Finials and Frame Finials.
5. Standard pickets are 5/8″ solid square. If a heavier gate is desired, specify 3/4″ solid square.
6. If the chosen gate design includes a monogram, specify the letter to be incorporated into the gate design. If logos or custom artwork are desired, full size details should be provided.
7. If gate operator mounting hardware is to be fabricated by Cassidy Bros. Forge, specify gate operator mounting brackets and gate stops are to be included. Contact Cassidy Bros. Forge if additional information is required.
8. Select a color finish for your wrought iron fence. Standard finish is high gloss black. Custom colors are available at an additional charge.